Shree Salasar Balaji
History
Ramdoot Shri Hanuman Ji was delighted and pleased with the great devotion of Siddhpurush Shri Mohandas Ji Maharaj and so in the year 1755, (vikrami shravan shukla navami) Saturday, in Asota village, he appeared in the form of an idol and fulfilled the desire of his devotee in Salasar. In the year 1759, he built the temple and assigned the service of the temple to his disciple Shri Udairam Ji and his descendants. He then went into Samadhi for the last time. (He consciously left his body).
Salasar village:-
Salasar village is situated at the eastern outskirts of Sujangarh tehsil, of Churu district in Rajasthan state. In instantaneous time, Salasar village was under the territory of the Bikaner province, where Pt. Sukhram Ji used to live. His wife's name was Kanhibai. She was the daughter of Pt. Lacchiram Ji, of Rulyani village, Sikar district. She was the only sister among her 6 brothers. Pt. Sukhram Ji and Kanhibai had a son, Udairam. Udairam's father died when he was 5yrs old.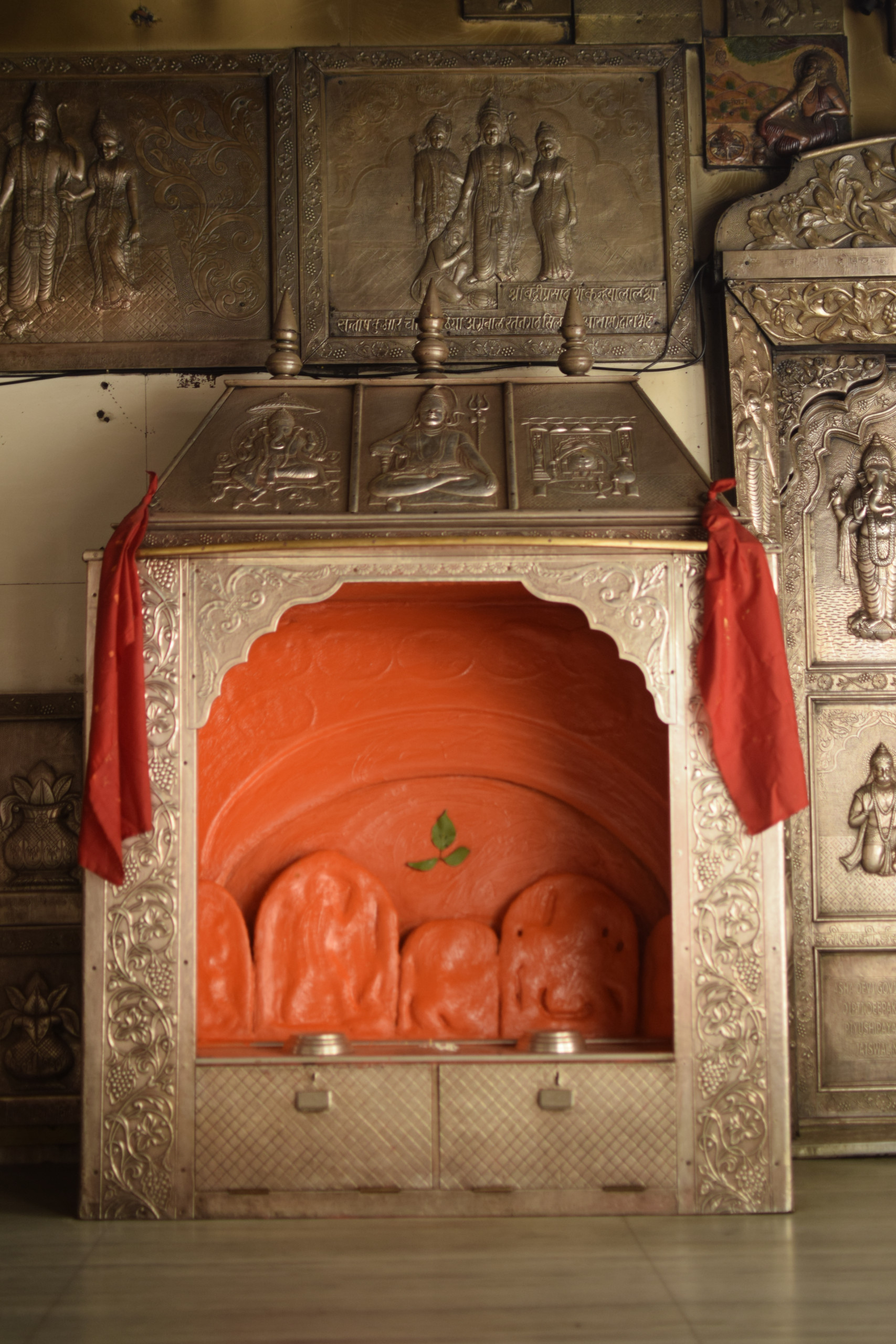 Apart from Bhagwat verses, Pt. Sukhram Ji used to do farming for his livelihood. Kanhibai, after the demise of her husband, was facing difficulty in farming and raising her only son Udairam, all by herself. She went to her parental village Rulyani in order to provide her son the suitable upbringing with the help of her father Pt. Lacchiram Ji. After several years, Kanhibai decided to come back to Salasar to take care of her house and farms. Pt. Lacchiram was supportive to his daughter in her days of adversity. He decided to send one of his sons to live with her in Salasar. He asked his youngest son Mohan to go to Salasar with his daughter as he was unmarried and didn't have any household responsibilities.
Mohan got suitable environment for his hymns; at his sister's house in Salasar, due to religiousness of both Pt. Lacchiram Ji's and Pt. Sukhram Ji's families. Lord Hanuman was the chief deity for both the families. Since childhood Mohan was a devotee of Lord Hanuman and he got the same environment at his sister's house. Relaxed atmosphere and secluded time in the house, gave Mohan more and more time for his devotion to Lord Hanuman. As the time passed, Mohan disrelished the functions of household and spent all his time in devoutness of Lord Hanuman.
One day, Udairam and Mohan were farming in the field. Udairam saw the axe fall from Mohan's hands again and again. He precisely stated;" If Mohan was not feeling well that day, so he could take some rest in the shade." Mohan told Udairam, some divine power is snatching the axe from his hands and throwing away and also an inkling that why was is he indulging in worldly attachments.
Udairam failed to understand this incident and narrated the whole story to his mother. Kanhibai thought her brother Mohan should marry lest he'll become fully detached. In order to prepare for the marriage, Kanhibai sold off the grains at low prices. Soon, Mohan got engaged. Kanhibai was sending auspicious presents at the girl's house through a barber, named BEEJA, just then Mohan claimed, all this is being done in vain because that girl is dead. Kanhibai interrupted Mohan and said you should not talk ominous things on such auspicious occasions. Mohan said, she is the mother who is older, my peers are my sisters, and younger to me are my daughters. "Then whom should I marry?"
The barber reached at the girl's house and saw her bier leaving. He returned and informed Kanhibai about it.
After the above incident, everybody realized that Mohan is a visionary by god's grace. And then, Mohan became Mohandas after renunciation. He was so engrossed in his psalm that he didn't care about food or his body. He used to meditate (Samadhi) in jungles for days. Udairam and villagers used to search for him. They used to remove sand collected on him and wake him up & Would help him clean and give him water to drink. With lot of persuasion, they used to bring him home and get him food. This became their life's routine. Except for god, he didn't care about anything else. By god's grace he had become a Paramahansa and had a proven voice. His nephew Udairam, entrusted a portion of his farm at a small distance from his house, and built a cottage for his yoga and meditation. Mohandas made this place as his austerity site and was engrossed in his god worship.
One day, Mohandas and Kanhibai were having a meal together. Suddenly they heard a voice (ALAKH) from outside their house. Mohandas Ji requested his sister, to give alms to the saint beggar. When she went out with the alms, she saw no one there. It was a very small village. Mohandas Ji himself looked for him everywhere but he was nowhere to be seen and there were no footprints. Then Mohandas Ji claimed, it was Lord Hanuman himself and I missed his sight. After two months, at the same time she heard the same voice (ALAKH). She said to Mohandas Ji, he is the same saint whom you were talking about.
Lord hanuman Ji disguised as a saint with a beard and a moustache and a spick in his hand. The Lord himself had appeared at Mohandas Ji's doorstep. Hanuman Ji had so much love and affection for his devotee that when he saw him approaching, he returned back in high speed. Mohandas Ji ran behind his Lord till far in the forest. They stopped and the Lord threatened him with spick in his hand and asked to leave him alone. The Lord asked "What do you want?" Ask your wish, I'll grant it. This was Lord Hanuman Ji's plot, and Mohandas Ji could understand it well. Mohandas Ji ignored all the talks and wrapped his hands around his lord's legs tightly.
Mohandas Ji said, I've got what I desired for, I want nothing else. If you come along with me to my house, then only I'll believe you're happy at me. The Lord Hanuman Ji was subdued with the devotion of Mohandas Ji. Lord Hanuman said to Mohandas Ji, that he will come only when he provides rice pudding (kheer) and an untouched bed for rest. Mohandas Ji gladly said "I merely asked you to come home, but in order to provide proximity to me, you yourself kept forward the condition for food and rest." Lord hanuman was doing all this in respect for Mohandas Ji's devoutness.
Lord Hanuman accompanied Mohandas Ji to his house, had food, took some rest and then disappeared. Mohandas Ji devoted himself completely to the Lord worship that he didn't want to stay away from it even for a moment. This enticed Lord Hanuman to appear in front of him again and again. Mohandas Ji requested to his lord saying, you have to come again and again and I can't live without seeing you. I request you to be here with me forever. Lord Hanuman accepted his request. He said I'll be here with you in Salasar in idol form. I grant this wish to you. Mohandas Ji was eagerly waiting for his Lord's idol. One day a landocrat from Asota village came to visit Mohandas Ji. Mohandas Ji asked him if there is any sculptor who can make an idol of his Lord. The noble man thought himself to be lucky to have got this opportunity and promised to send the idol as soon as possible. One day in aasota village, a peasant while pid ghing his land, stuck his coulter in something. He stopped his bullocks and started digging there. He found a beautiful idol of Lord Hanuman with Lord Ram and Lakshman sitting on his shoulders. He cleaned the idol faithfully, and showed the beautiful idol to his wife. She was overwhelmed and kept the idol under the tree and offered Prasad. The landocrat was informed. Reverently, the landocrat brought the idol to his house. He heard a voice while sleeping, that I appeared for my devotee Mohandas. I want to reach Salasar as early as possible. He then recalled his conversation with Mohandas. He narrated the whole incident to all the villagers and sent the idol in a bullock cart to Salasar with all the villagers singing in joy and glory.
Mohandas Ji also had a dream that his lord was coming to Salasar. He left Salasar to welcome them. The idol was then brought to Salasar. All of them decided to agree that wherever the bullock cart would stop, the idol would be set up there. On the same day, in the year 1755 (Sam vat 1811, vikrami shravan shukla navami),Saturday, in order to establish lord Hanuman's idol two sculptors were called upon named Noor Mohammad and Dau. This incident sets an admirable example of secularism. The temple was built in the year 1759 (Sam vat 1815).
Mohandas Ji gave his robe to his disciple Udairam and ordinated him for lord's worship. Later on this robe was inherited in the temple. Mohandas Ji changed the original idol form, and included beard and moustache because he saw his lord for the first time (in dream) in that appearance. In the year 1755, the candles were alighted and till today they are lit. One fine morning, in the year 1794 (baisakh shukla trayodashi), Mohandas Ji left his body consciously (He went into Samadhi).
Salasar Balaji Temple celebrates two main events. First, the day the temple was established (shravan shukla navami) and Second, in the memory of Shri Mohandas Ji (shraadh divas, baisakh shukla trayodashi). Thousands of people participate in these events. There are more than 100 guest houses with all the facilities for the devotees who come from all parts of the world.
In this religious place, food and other facilities are available at free of cost. Except for some private guest houses, the guest houses of Shri Hanuman Seva Samiti provide free residential facilities. There are two main occasions on which fair are organized- Sharad Purnima and Hanuman Jayanti. All the facilities that are being provided to the devotees and tourists, and the development of Salasar is managed by Hanuman Seva Samiti. This holy place is entirely devoid of pomposity. There is a direct connection between devotee and the lord at this holy place. There is no other medium. Devotees tie coconuts in the temple. As per Shri Mohandas Ji's promise, wishes will be granted if coconuts are tied in dedicated devotion. These coconuts are tied in lakhs. People have a lot of faith in this practice. These coconuts are not used for any other purpose.